CIRM-Luminy: mathematical, sports and cultural vacations for about thirty high school girls, hosted at the Centre international de rencontres mathématiques!
The organizers – Cirm (AMU/CNRS/SMF), the Institut de Mathématiques de Marseille – I2M (AMU/CNRS/Centrale Marseille) and the association « Maths pour tous » – welcome the high school students, selected on the basis of a letter of motivation and a recommendation from their teachers.
The aim of the Cicadas mathematics school is to develop the attractiveness of mathematics to young girls in order to achieve greater parity in technical and scientific careers. This school is particularly supported by the vice-presidency of gender equality and the fight against discrimination at Aix-Marseille University. During 5 days, the high school girls will discover that mathematics is everywhere and above all that it is accessible to most people, both girls and boys.
The high school girls are immersed for a week in one of the most prestigious centers for mathematical meetings, Cirm, on the Luminy campus, which welcomes more than 4,500 researchers from all over the world every year. The program includes mathematics, computer science, conferences, sports (thanks to the support of the Faculty of Sports Sciences – AMU), a visit to the calanques and meetings with women researchers and engineers.
The high school girls are welcomed on Sunday evening at the Cirm and leave on Friday late afternoon. They sleep and eat on site, in the center's hotel-restaurant. The mornings are devoted to mathematical research (scientific problems to be solved), the afternoons to sports or walks in the calanques, and in the evenings to conferences, games and festivities.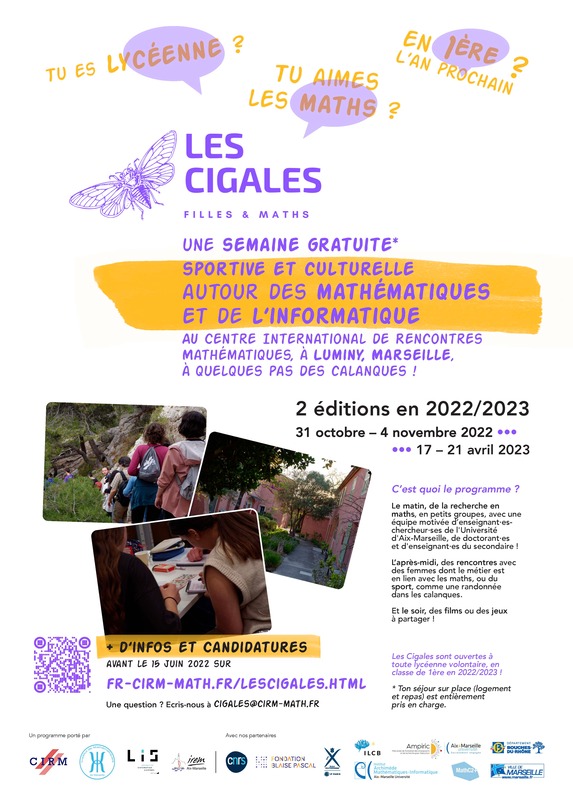 TWO SESSIONS ARE OPEN FOR THE YEAR 2022-2023 (FALL 2022 AND SPRING 2023): REGISTRATION OPENS JUNE 1, 2022 AND DEADLINE JUNE 15, 2022!