Conferences, schools, workshops, residencies, dissemination activities, etc. Find here all the events scheduled at Cirm.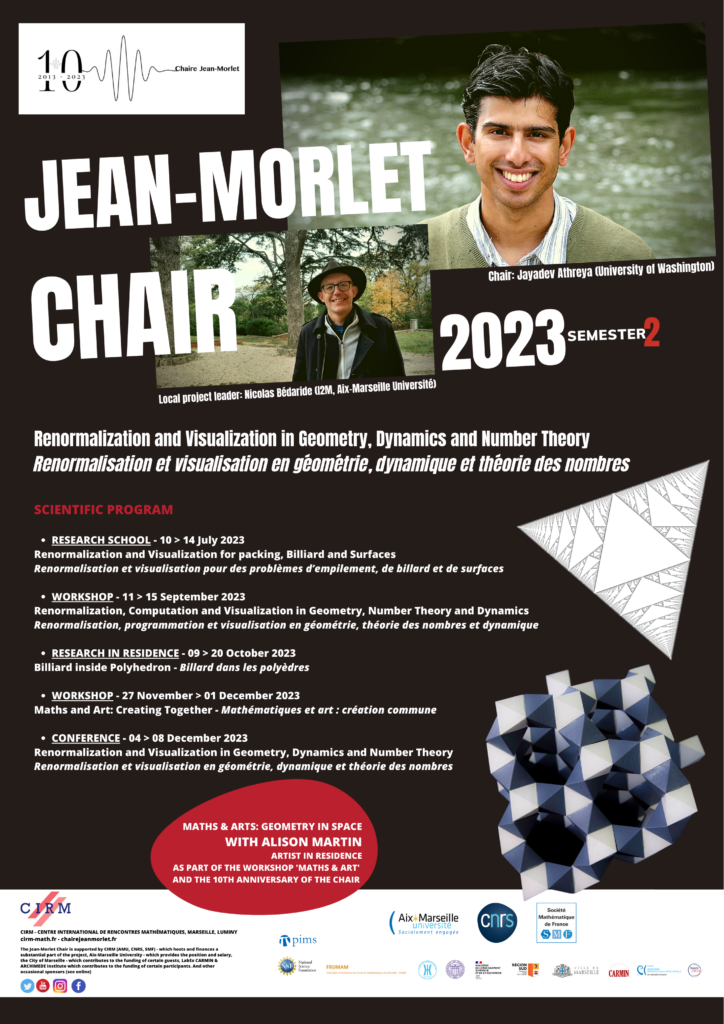 A NEW JEAN-MORLET CHAIR 2023, Semester 2
Jayadev ATHREYA (Chair) and Nicolas BÉDARIDE (Local Project Leader)
RENORMALIZATION AND VISUALIZATION IN GEOMETRY, DYNAMICS AND NUMBER THEORY


Jayadev Athreya, is professor at the University of Washington. He is an active researcher with an extra skill in experimental math (founder and director of Washington experimental Mathematical Lab, founder and director of the Illinois geometry lab). He currently is member of two different departments in his university, the department of mathematics and the department of comparative history of ideas. His research domain includes dynamical systems as random walks, Teichmüller geodesic flows, billiards; number theory as diophantine approximations and he has published about 40 articles in mathematical journals. He was the lead organizer of a semester on Holomorphic Differentials in Mathematics and Physics in fall 2019. Jayadev has obtained several NSF grants and has a very good international visibility.
The local project holder is Nicolas Bédaride, Maître de conférence at Université Aix-Marseille. Nicolas published 22 articles on symbolic dynamics and billiards. He is co-directing one Ph.D. thesis at the moment and is highly experienced in the organization of international conferences, in particular with CIRM.
Bibliothèque mathématique audiovisuelle
Le Cirm accueille les mathématiques mondiales. Plus de 4500 chercheurs et chercheuses s'y rencontrent chaque année pour échanger et diffuser leurs savoirs. Dans le cadre du Laboratoire d'Excellence Carmin, le Cirm a souhaité mémoriser et valoriser ces données de la science.
La Bibliothèque Mathématique Audiovisuelle est une plateforme évoluée construite sur un corpus de conférences données par des mathématiciens du monde entier lors de leur passage au Cirm. Cette plateforme apporte toutes les fonctionnalités d'une recherche documentaire de haut niveau sur une base de films catalogués et enrichis.
Death of Eugenio Calabi: one of CIRM's first visitors, in 1981
September 25, 2023, death of mathematician Eugenio Calabi (born May 11, 1923). An Italian-born American mathematician and Professor Emeritus of Mathematics at the University of Pennsylvania, Eugenio Calabi specialized in differential geometry, partial differential equations and their applications. He was one of the first mathematicians to set foot on CIRM's premises: in 1981, during CIRM's first Bourbaki seminar, where he gave a lecture in French 'Géométrie différentielle affine des hypersurfaces'.
Read « Gene Calabi at 100 – Memorable encounters with Eugenio Calabi« , by Jean-Pierre Bourguignon – IHÉS, Bures-sur-Yvette, France and Balázs Szendrői – University of Vienna, Austria.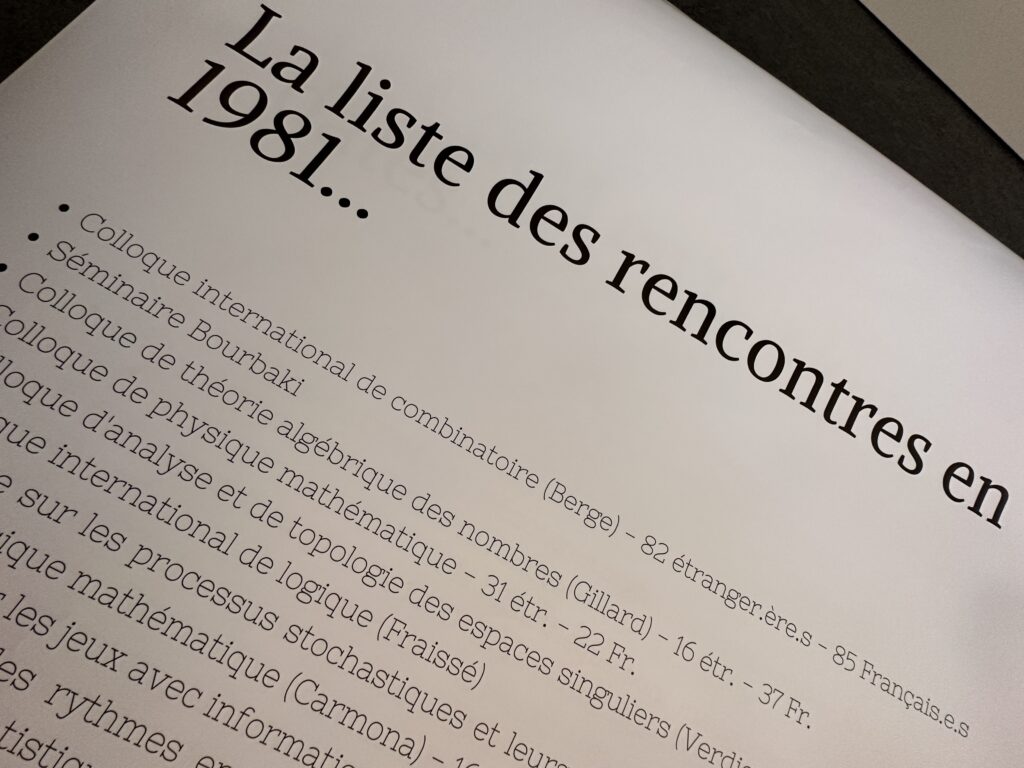 A stay at Cirm, a French scientific research hub, can encourage young people to take up scientific careers. For secondary school students, coming to Cirm is an opportunity that can have a lasting influence on their future. Several schemes exist to date and differ greatly in duration and target audience:
The Cicadas, this school was launched in October 2019 and aims to participate in the dissemination of scientific culture and spirit while fighting against the disaffection of women for this theme.
Dissemination days: a whole day dedicated to high school students of the Aix-Marseille Academy.
Science festivals, exhibitions, etc.